Apart from his work on House of Cards, screenwriter Andrew Davies is most famous for all the classic literature he has adapted, mainly for television. Whenever his name is mentioned in press releases for a new BBC miniseries based on a classic, there are people who take notice-more notice, I sometimes think, than he actually deserves. That's because when he's mentioned, his most popular adaptations, the 1995 Pride and Prejudice and the 2005 Bleak House, are also mentioned. That's perfectly reasonable of course. It wouldn't make sense to mention things people are less likely to have seen or remember. But it gives the impression that his quality is more consistent than it is. His Pride and Prejudice may certainly be one of the best adaptations of Jane Austen's writing to another medium, but his resume is less impressive if you factor in his so so Sense and Sensibility (2008) and Northanger Abbey (2007) and his weird, creepy, Bronte-fied Emma (1996).[1]Not to be confused with Douglas McGrath's Emma, which was released the same year.
While Davies is a great writer when it comes to things like characterization and pacing, the best dialogue in his adaptations tends to be from the source material. His original dialogue tends to be comparatively generic and cliché, especially the longer his career goes on. Then there's his juvenile preoccupation with sexuality. This isn't as annoying in his adaptations of, say, Tolstoy or Hugo as they're more explicit about sex than other classic authors Davies has adapted, like Austen and Dickens. But even there, it sometimes feels like all the characters' complicated motivations are reduced to "they want to have sex." He also tends to give short shrift to spiritual themes from his sources.
But make no mistake. At its best, an Andrew Davies adaptation is a wonderful thing. He can take a demanding, doorstopper of a classic literary work and make it perfectly accessible to modern TV audiences while still keeping the things that made it a classic in the first place. He's adapted more books by Jane Austen than any other author,[2]Especially if you count the Bridget Jones movies so to go through all of them would give a good idea of his strengths and weaknesses. But instead I'm going to analyze the mere two adaptations he's done of Charles Dickens works because…well, frankly, because I'm more interested in Dickens than Austen. His two Dickensian miniseries, Bleak House (2005) and Little Dorrit (2008), were interesting in that they were adapted from two of Dickens' less well known books and were female driven stories, Dickens' heroines being his most frequently criticized characters. In this post, I'll take a look at whether those risks paid off in the first of the two.
Bleak House centers on Jarndyce and. Jarndyce, a legal dispute over an estate that has lasted many generations, benefiting no one but the lawyers. According to Dickens, by the time the story begins, it's "passed into a joke. That is the only good that has ever come out of it." As a gesture of goodwill, Mr. John Jarndyce (Denis Lawson) invites his orphaned cousins, Richard Carstone (Patrick Kennedy) and Ada Clare (Carey Mulligan), his rival claimants, to live with him at Bleak House, so named because of the tragic fate of its previous owner, who was driven mad by Jarndyce and Jarndyce. As a companion for Ada, he also invites Esther Summerson (Anna Maxwell Martin), an orphan with no memory of her parents, who knows nothing of her heritage except that she was probably born illegitimately.
Meanwhile, Mr. Tulkinghorn (Charles Dance), lawyer to Sir. Leicester Dedlock (Timothy West), suspects that his client's aloof trophy wife, Lady Dedlock (Gillian Anderson), harbors a secret, probably an illegitimate child. (There's no prize for guessing how this plot ties in with the other in either the book or the miniseries.) Discreetly, he investigates, ostensibly so he can protect Sir. Leicester's reputation but really because he takes a sadistic pleasure in torturing others with his knowledge of their darkest secrets.
The biggest draw in any Dickens adaptation is the cast of larger-than-life characters. Bleak House does not disappoint here and its greatest asset may be the cast of actors who bring the characters to life. Not only are their performances great but, with the help of the makeup team, you can tell just by looking at them what kind of characters they are. (This is fortunate since the miniseries is faster paced than the book and has less time to develop them.) Two standouts are Dance and Anderson as the creepy Tulkinghorn and the outwardly chilly but inwardly passionate Lady Dedlock. The cat and mouse game between them is riveting to watch.
Dermot Crowley as another evil lawyer[3]There are a number of them in this story, the respectable bloodsucker, Mr. Vholes, looks and sounds like he's stepped right off the page.
While not as showy a role, Denis Lawson is compelling as the noble but world weary Jarndyce.
Special praise goes to Patrick Kennedy and Carey Mulligan as Richard Carstone and Ada Clare, who, again thanks in part to the makeup team, go on a journey from relative innocence and naivety to depression and disillusionment. (It's a shame I don't have a really good selection of screencaps on the web to demonstrate this!) This works much better than the 1985 miniseries of Bleak House where Richard looks angry and Ada looks melancholy right from the get go.
While some of actors are better than others, there's only one case of miscasting. Unfortunately, it's the lead, Anna Maxwell Martin as Esther Summerson. Other characters find Esther so warm and inviting that they confide their biggest problems in her, in some cases on the same day they've met her. While Martin's a great actress, she just doesn't project this kind of persona. And since the miniseries is faster paced than the book is, she has less time to make this convincing.
I applaud the desires of this show's creators to make it feel like a modern TV procedural. It's especially refreshing when contrasted with too many of the miniseries based on classics that the BBC made in the 80s and 90s, which were almost unwatchable in their staginess. But I sometimes find the camera stylizations annoying, mainly all the zooming and whooshing transitions. And the way certain locations (Krook's shop, Bleak House, Chesney Wold) are introduced in each episode with the three same establishing shots in rapid succession and a bang! bang! bang! sound effect, makes me want to yell at directors, Justin Chadwick (The Other Boleyn Girl) and Susannah White (Nanny McPhee and the Big Bang), "OK! I know what they look like by now!" It's probably less irritating if you don't binge watch. But the show's so good, why wouldn't you want to binge watch?
While Dickens is one of my favorite authors, I don't believe Bleak House or Little Dorrit for that matter, were his best work.[4]Though they rank among his most interesting work perhaps. So I'm more openminded about adaptational changes to them than I am to, say, Nicholas Nickleby or Great Expectations. One of my favorite quotes from the movie Ratatouille is "to be a great artist, you must try things that may not work." Dickens was a great artist and in Bleak House, he tried some things that, well, they didn't quite work. This miniseries is actually able to improve on it in some notable ways, though I wouldn't say it's an improvement on the whole. Davies intercuts between the different groups of characters frequently enough that we aren't constantly wondering when we'll get back to any of them. And he cleverly rearranges the story so that we aren't wondering when something will happen or how one thing will eventually connect to another. He also makes it immediately clear what Tulkinghorn and the ambitious young law clerk besotted with Esther, William Guppy (hilarious Burn Gorman), are trying to accomplish with their individual detective work, most notably Guppy's interactions with the miserly rag and bone man, Krook (Johnny Vegas.) Some fans, who like this mystery element of the book, may be disappointed by this, but I find it a hurdle as a reader.
A side effect of all this is that there many scenes that aren't in the book or are significantly different from their literary counterparts. As the series goes on, even the scenes that are close to the book use largely original dialogue, though each character manages to squeeze in their Dickensian catchphrase at least once. I wrote earlier that the original dialogue in Andrew Davies adaptations tends to more generic than the lines from the source material. I'll maintain that's true of the original dialogue for Bleak House's main characters, but it's actually not a problem with the supporting characters. A few of them have my favorite lines in Charles Dickens adaptations not to have been written by Dickens himself. Even the dialogue for the main characters while more generic is good quality generic, if occasionally too heavyhanded about the theme of secrecy for my tastes, and serves its purpose of developing characters and moving the story along. And even as someone who'll defend Dickens against charges of sentimentality[5]My defense is not so much that he isn't sentimental as that his is good quality sentimentality, I'll admit it's a relief that the cutesy nicknames for Esther and her references to Ada as "her darling" are dropped.
The depiction of Esther's love interest, the noble surgeon, Allan Woodcourt (Richard Harrington) is also something of an improvement on the text. In the book, most of his scenes are narrated by Esther[6]Half of the book is narrated by her and the other by a third person narrator. It's one of those "things that might not work" in Bleak House. who is clearly too embarrassed to describe their relationship. I can certainly understand that. I wouldn't want to go into detail about something so personal to countless unknown readers. But it sure doesn't make for very good storytelling. Woodcourt still doesn't come to life as a character the way you'd wish, but he and his romance with Esther are still better developed than they are in the source material.
Not all characters benefit from this adaptation though. The pugnacious but ultimately benevolent Lawrence Boythorn (Warren Clarke) loses all his most hilarious lines and ends up being a perfectly fine but unmemorable character. Davies has said that he "was never quite sure about the manic exuberance of (Dickens's) comic characters" and this probably reflects that.
The minor character of Caddy Jellyby (Natalie Press) loses a bit of depth. In the book, she's painfully aware of what a bad parent her mother is, but is completely taken in by the cant of Mr. Turveydrop (hilarious Matthew Kelly), her beloved Prince (Byran Dick)'s selfish father. Here she's just as angry and disgusted with him as she is with her own parent. This change is understandable. With the miniseries' faster pacing-which I consider a good thing, however my individual points may seem to contradict that-there's less time to develop the Turveydrops , so it makes sense to have her be able to give exposition about them and their relationship.[7]In the book, exposition is given by a random background character, which would have meant casting another actress for a single scene. But it makes Caddy a much more one-note character and makes it hard to believe she could be happily married to Prince when he's so pathetically devoted to Mr. Turveydrop sr.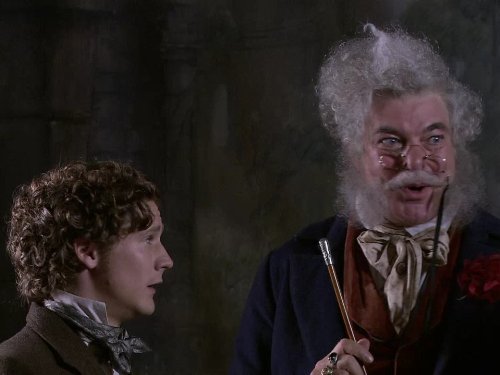 The character of Sgt. George (Hugo Speer) is a bit darker in this adaptation to make him a more plausible suspect in the climactic murder mystery. I'm not a fan of this in theory. But in practice, I actually enjoy both the character from the book and the character in the miniseries.
The character who suffers most in the adaptation process is Harold Skimpole (Nathaniel Parker.) The miniseries emphasizes and even ramps up his villainy, which I don't mind, while conveying none of his disarming charm. As his with his foil, Boythorn, none of his most amusing lines are included and the original lines given to him by this adaptation make it transparent that his professions of unconcern with money are an act. It's hard to see why Jarndyce likes him initially and it's almost boring how obvious a phony he is.
Another character whose villainy gets more screen time than in the the book is the ratlike moneylender, Smallweed (Phil Davis), which makes it rather annoying that he gets less comeuppance than in Dickens.[8]Inspector Bucket (Alun Armstrong) still takes him down a peg, but he doesn't undergo the humiliation of being betrayed by his grandchildren, though Louise Brealy as Judy Smallweed does a great … Continue reading Skimpole, on the other hand, does get more comeuppance in a satisfying reimagining of his final scene from the book.
Smallweed is so nasty in the miniseries that his scenes threaten to become unwatchable. This is in part because it doesn't include his senile wife, though his memorable insults of her are included and directed at other characters. Most of the comedy in his scenes from the book comes from her. She's not the only member of the story's unwieldly cast to be cut, understandably so[9]Bleak House can be very frustrating on a first read since Dickens is still introducing characters and subplots at the halfway point and it takes a long time to see how they're all important. though some omissions are still to be regretted. Tony Jobling, Guppy's sidekick/victim, isn't missed much, but Sgt. George's friends, the Bagnets, are. If I were to choose, I'd unhesitatingly say they're more fun than Phil Squod (Michael Smiley), the character from the book who takes over their roles here.[10]Ironically, while this miniseries softens the book's antifeminist message, in cutting Mrs. Bagnet, it loses one of the more feminist friendly characterizations. Still, it's not like Phil Squod is a bad character and it's understandably cheaper to have one actor to fulfill a dramatic function than multiple actors of various ages.
The biggest changes to the plot involve the climax. The logistics of how the murderer's identity is revealed in this version don't make sense to me, but I can see how it makes the scene even more suspenseful. I don't mind changes to Dickens adaptations to make the plot more exciting as much as to some authors, since he always seemed like he aimed to please the masses who like things like action scenes.[11]I don't say that to disparage Dickens as an artist at all. In the words of one biographer, "Dickens stands first as a defiant monument of what happens when a great literary genius has a … Continue reading But the changes made to ensuing search make it less exciting. I can only assume it was adapted this way because the BBC wouldn't give them enough time or enough money to do it the way the book did.
When I started writing this post, I didn't expect to devote roughly as much space to criticizing this miniseries as I have to praising it. But now that I see I've done so, I'm not necessarily surprised. In all honesty, I do sometimes feel this adaptation is overrated. But there's a big difference between overrated and bad. It's still one of the best miniseries based on a Charles Dickens book out there, one that's both pleasing to fans, with how well it brings (most of) the characters to life, and accessible to people who would never get into the source material.
Bibliography
The Project Gutenberg eBook of Bleak House, by Charles Dickens
Robert Giddings Reviews Andrew Davies-BBC-1-Bleak House (charlesdickenspage.com)
Charles Dickens: (1906) by Gilbert Keith Chesterton: Chapter 5 (online-literature.com)
References

↑

1
Not to be confused with Douglas McGrath's Emma, which was released the same year.

↑

2
Especially if you count the Bridget Jones movies

↑

3
There are a number of them in this story

↑

4
Though they rank among his most interesting work perhaps.

↑

5
My defense is not so much that he isn't sentimental as that his is good quality sentimentality

↑

6
Half of the book is narrated by her and the other by a third person narrator. It's one of those "things that might not work" in Bleak House.

↑

7
In the book, exposition is given by a random background character, which would have meant casting another actress for a single scene.

↑

8
Inspector Bucket (Alun Armstrong) still takes him down a peg, but he doesn't undergo the humiliation of being betrayed by his grandchildren, though Louise Brealy as Judy Smallweed does a great job conveying that she'd like to betray him through her facial expressions.

↑

9
Bleak House can be very frustrating on a first read since Dickens is still introducing characters and subplots at the halfway point and it takes a long time to see how they're all important.

↑

10
Ironically, while this miniseries softens the book's antifeminist message, in cutting Mrs. Bagnet, it loses one of the more feminist friendly characterizations.

↑

11
I don't say that to disparage Dickens as an artist at all. In the words of one biographer, "Dickens stands first as a defiant monument of what happens when a great literary genius has a literary taste akin to that of the community…Dickens did not (just) write what the people wanted. Dickens wanted what the people wanted."